11 Things To Do In Markham
October 4, 2017
When thinking of a combination of rolling hills, skyscrapers, and historical homes, these thoughts would probably lead to the city of Markham, Ontario. Markham is a bustling city in the GTA (Greater Toronto Area) where heritage meets modern living. When visiting the neighbourhood, it will be easy to find activities to please everyone in a family.
1.Visit Old Railway Stations
Markham GO Station dates back to 1871 making it one of the oldest stations in the city. This is apparent due to its classic design and architecture. While now a community centre, when looking for more of the classic railway and Gothic styled buildings, head to Unionville Go Station. Locust Hill Station is now fittingly apart of the Markham Museum and dates back to 1936 making this a must-see along any journey.
2.Visit the Local Museum
If the railway tour has led to the Markham Museum, it will be worth it to stay a while and learn about the city's history and culture. The museum is an open-air museum made up of around 30 buildings with gardens to explore. The museum includes permanent and temporary exhibitions including Markham artifacts dating back to 1968.
3.See Some Art
While we're on the topic of museums, art lovers will enjoy paying a visit to the Frederick Horsman Varley Art Gallery. Horseman was a part of the famous 'Group of Seven' with over 100 pieces to be seen by his name. But Horseman isn't the only artist featured in this historical museum. Built in 1977, the gallery also displays local, national and international pieces with the option to rent out spaces for local artists.
4.Enjoy Fresh Produce
Markham will make anyone in the mood for fresh fruit like juicy strawberries or seasonal vegetables like comforting squash thanks to Whittamore Farm. From June to October 31st the 200 acre farm allows picking of fresh fruit and vegetables at visitors' leisure. A store is also on site where fresh maple syrup, honey and pies can be purchased. Whittamore Farm makes it hard to leave and easy to jump right in with activities like tractor riding, corn mazes, and slides.
5.Eat Different Cuisines
Fresh produce isn't the only thing to fill tummies in Markham. Like other cities in the GTA, Markham is able to provide a mix of food from a variety of cultures. Start by trying authentic Chinese food before moving on to Indian, Japanese or Italian in Old Markham or Unionville. If there is room left after a day of eating, finish a night at one of the local English pubs with a pint.
6.Visit Local Parks
Some people prefer lazing away in parks to get away from the hustle and bustle of the city. Markham is home to Toogood Park located in Unionville and is the perfect place for hikes, strolls and nature seeing. Toogood Park is made up of 330 hectares including ponds, gorgeous botanical and bridges. Trails are available to take visitors through the rocky hills at Toogood, before trying other city parks like Berczy and Crosby Memorial if you have extra time.
7.Hike at Canada's Only Urban Park
If visitors haven't scratched their hiking itch at Markham's local parks, a visit to Milne Dam Conservation Park is in order.This park is a part of Canada's only national urban park, Rouge Park, and spans over 100 hectares. Expect to find over 2 kilometers of hiking trails including birds, forests, and other wildlife. Washrooms and picnic areas are included so no hikes are left cut short.
8.See Historic Neighbourhoods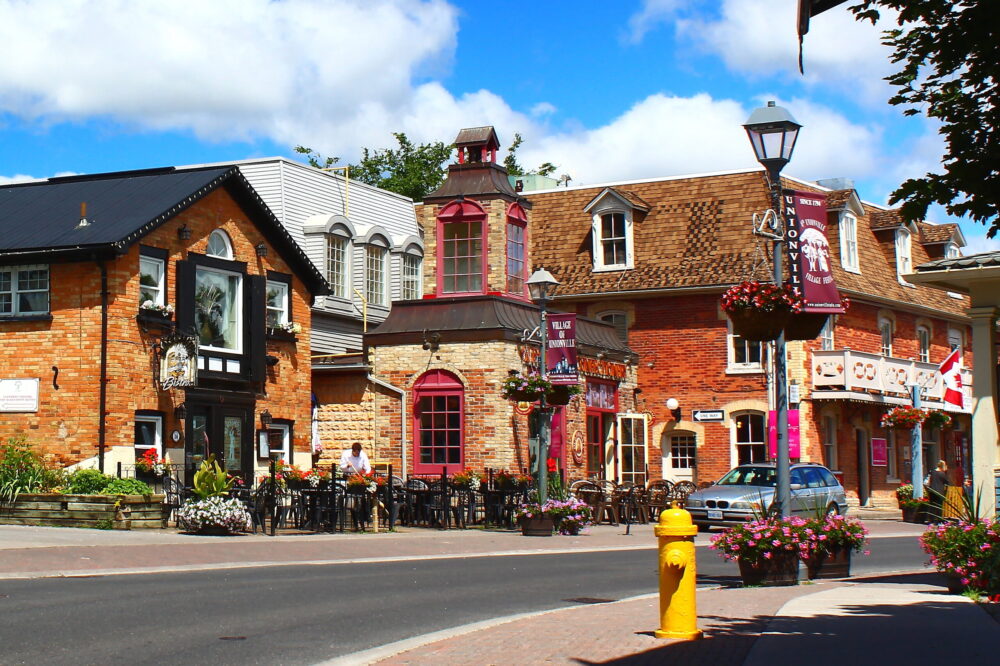 Markham does a great job at blending the old charm of Canadian history with modern buildings and scenery. The city is full of neighbourhoods that will transport visitors back to a simpler time. Visitors can see the historical homes in Markham village or check out the charming neighbourhood of Unionville, dating back to over four centuries. Unionville is a great area to wander through with your camera before checking out some restaurants, bars and shops.
9.Take a Few Swings
The city of Markham has a variety of 10 golf courses – 4 private and 5 public so visitors can easily take the time to enjoy a round. Angus Glen Golf Course is famous for hosting PGA tours and is one of the best public courses in the city, while the York Downs Golf and Country Club is the most prestigious. With so many courses to choose from, it will be easy to find one that fits all style and needs.
10.Get Active Indoors
We mentioned some outdoor activities, but what if a visit to Markham happens to be during a rainy spell? Not to worry, the city has it covered with plenty of recreational centres to keep boredom at bay. Most of Markham's community centres are able to take favourite activities like skating, squash or swimming and gives visitors the ability to enjoy them without worrying about the weather. Thornhill Community Centre has even included a track so guests won't miss their daily jog.
11.Get On a Bike
For more indoor fun, visitors can head to Joyride 150, an indoor bike park. Joyride 150 makes it easy to enjoy all aspects of riding no matter whether guests are novices or pros. The indoor park has it all from ramps and half-pipes to a mountain bike trail for riders to enjoy any day of the week. Once riders are all tuckered out, they can relax with a bite to eat in their on-site lounge.
While there, take advantage of the chance to live like a local by visiting Mary-am Suites. These Markham furnished apartments are perfect for taking in all the city has to offer.